Daniel Johnson, DMQ LAc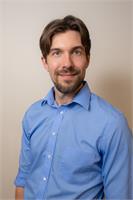 Daniel is the Clinical Director of the WAY Wellness Center. As a western Pennsylvania native, he was raised to appreciate the healing power drawn from living in balance with the seasonal variations of nature.
Daniel graduated from AOMA: Graduate School of Integrative Medicine in Austin, Texas completing an extensive four-year program in Acupuncture, Herbology, Western Medicine, and Asian Bodywork Therapy. He has studied in China at the Chengdu University of Traditional Chinese Medicine. He is a Doctor of Medical QiGong.
With a strong background in psychology, biology, and classical Chinese medicine, Daniel in an expert in mind-body studies and natural healing practices. As a certified yoga instructor, medical QiGong therapist, and certified Tea Master he teaches his clients how to regain balance in their daily lives through the usage of diet, breathing, movement, and meditation.
Daniel uses the tools of acupuncture, bodywork, herbal medicine, moxibustion, cupping, nutritional therapy, and Qigong (mind-body exercise) to empower and heal his clients.
He specializes in treating both internal and external conditions of chronic degeneration including conditions involving the respiratory, digestive, cardiovascular and nervous system.
He is experienced in reproductive health and natural fertility enhancement.
Availability: Monday 9 - 7, Wednesday 9 - 7, Thursday 9 - 7
Daniel Johnson, DMQ LAc is currently not instructing any classes.